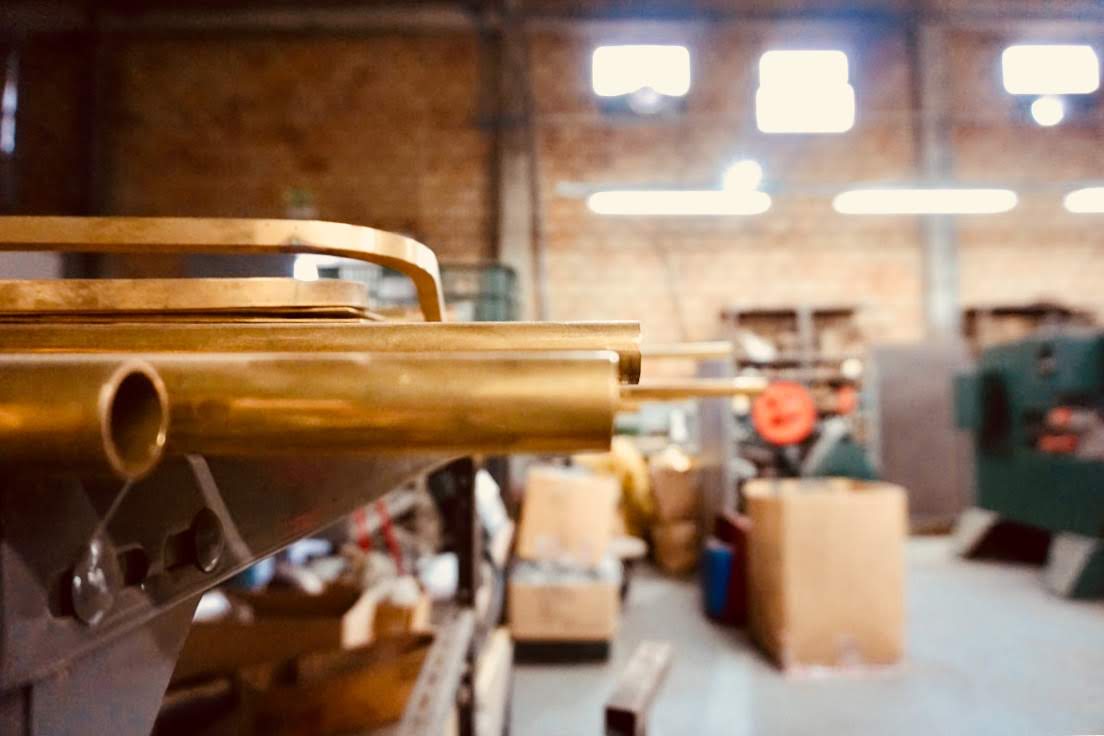 ABELHA MUKAKI is a brand of lighting and furniture that is born from the desire to endure the craftwork over time. It presents as a language of its own which transmits the mission to recover the know-how of the Portuguese craftsmen in the use of traditional methods of work the noble materials, combined with a contemporary design, care and attention to detail.
The project was born in 2013 through the merging of north and south of Portugal. Rita Mongiardim in Lisbon, with a background in the arts of classical and contemporary dance and an academic experience of Decorative Arts, joins Manuela Pais who, with an extensive experience in production and leading projects, assumes in 2014 the direction of a brass factory in Porto, transforming a mass work into a custom and contemporary production, streamlining the immense talent of a team of artisans with a wide experience and dedication.
Over time, with the desire to recover increasingly artisanal production techniques, ABELHA MUKAKI started working with other materials beyond brass, always having as a priority seeking artisans who still maintains the traditional techniques, adapting them for the implementation of more contemporary parts, as well as national artists with whom we work in partnership. This crossing of different experiences and approaches allows us to gather a set of conditions that contribute to enrich and enhance the end products.
In addition to the pieces of our catalog, we also design custom pieces for specific projects, for a given space, in accordance with the context presented by the client.
The result are pieces created from a story, a memory or an emotion, with a soul itself, assuming the size of works of art and sculptures in the space, and which transmit the strong influence of Portuguese historic, cultural and artistic background in the decorative arts
\ pt \
A ABELHA MUKAKI é uma marca de iluminação e mobiliário que nasce da vontade de perdurar a artesania no tempo. Apresenta-se com uma linguagem própria que transmite a missão de recuperar o saber fazer dos artesãos portugueses na utilização de métodos antigos de trabalho de materiais nobres, associado a um desenho contemporâneo, cuidado e com atenção ao detalhe.
O projeto surge em 2013 através da união do sul e norte de Portugal. Em Lisboa Rita Mongiardim, com um background nas artes performativas da dança clássica e contemporânea e a experiência académica das Artes Decorativas junta-se a Manuela Pais, que com vasta experiência em produção e em liderança de projetos, assume em 2014 a direção de uma fábrica de latão no Porto, transformando um trabalho mais massificado, numa produção personalizada e contemporânea, dinamizando o enorme talento de uma equipa de artesãos com uma vasta experiência e dedicação.
Ao longo dos tempos, com a vontade de recuperar cada vez mais técnicas de produção artesanal, a ABELHA MUKAKI passa a trabalhar com outros materiais além do latão, tendo sempre como prioridade a procura de artesãos que ainda mantém as técnicas tradicionais, adaptando-as para a execução de peças mais contemporâneas, assim como artistas nacionais com os quais trabalhamos em parceria. Este cruzamento de diferentes experiências e abordagens permite reunir um conjunto de condições que contribuem para enriquecer e valorizar os produtos finais.
Paralelamente às peças do nosso catálogo também desenhamos peças personalizadas para projetos específicos, para um determinado espaço, de acordo com o contexto apresentado pelo cliente.
O resultado são peças criadas a partir de uma história, de uma memória ou de uma emoção, com uma alma própria, assumindo a dimensão de objetos de arte e de esculturas no espaço, e que transmitem a forte influência da bagagem histórica, cultural e artística portuguesa nas artes decorativas.